Without a doubt, the most frequently asked question at the Harbor Haus is "Can we have a table with a view?" Fortunately, that's an easy request to fill as we are situated right on the shore of Lake Superior.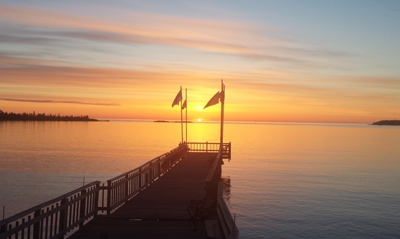 Through our large picture windows, each guest has a beautiful harbor view expanding onto the big lake. While dining, it's not uncommon to see ore freighters in transit or small marine traffic and kayakers taking in the beautiful surroundings. All of this is framed by a patio adorned with flowers and trees, providing a German/Austrian flavor.
We offer a vast dining menu featuring fresh local fish, seafood, steaks and many more items, as well as Ahi flown in from Hawaii the day after it was "swimming." Local berries and vegetables are utilized in the dishes when available. As part of our day, the culinary staff is busy preparing the items for the menu, including soups, salad dressings, and desserts. No prefabricated dishes are served at the Harbor Haus. Our dining room staff are prepared to assist you in making a choice of entrée and to help answer any questions you may have about the food as well as the local area. To add to the authentic experience, our waitresses are dressed in Dirndls, which are the traditional peasant dresses that are still in fashion today in Southern Germany and Austria.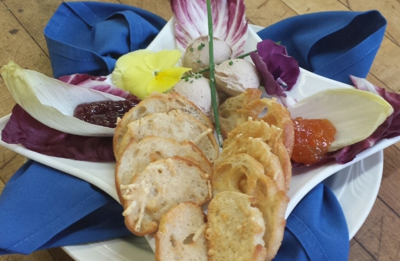 Our bar offers a full array of wine, German beer and cocktails that also blend the local flavor with fresh berries and Haus-infused liquors. Of note, our wine list is one of the best in the Copper Country.
A variety of items on the restaurant walls carry an international flavor. A world-class collection of steins surround the dining area and the wall hangings near the stairway to the upper dining room find their origins in Finland.
Finally, each day between 6:00 and 6:30 PM., the wait staff will disappear from your table to perform a ritualistic dance outside on the Harbor Haus patio. As guests look out of the picture windows, they will see the wait staff dancing as the Isle Royale Queen, a passenger ferry/boat, making its return trip from Isle Royale National Park, enters the Harbor. This greeting to the boat and passengers symbolizes the cooperative nature of the community of Copper Harbor, and has for the past few decades.
Please join us as we truly look forward to making your dining experience at the Harbor Haus one of a kind.